March 29, 2011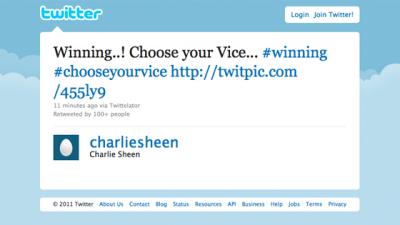 The results are in and it's no surprise. According to a recent Internet-use study conducted by Yahoo researchers entitled Who Says What to Whom on Twitter, Twitter is not really functioning like a social network. Instead, it actually resembles an information-sharing hub where a mere 0.05% of users "steal almost half of the spotlight."
Of the 260 million tweets with URLs that the study analyzed, almost 50% of the tweets consumed were created by what they called "elite" users who fall into four categories: media, celebrities, organizations and bloggers. So-called "Ordinary" users made up the remainder.
Similar to previous findings, the study concludes that Twitter is far more like an information clearing center than a true social network, with the top Tweet-producers getting huge follower totals but not following their content consumers in return. Twitter has become an incredibbly powerefully and free advertising vehicle for the few while not much more for everyone else.
This study delves deeper into the production and flow of tweets than previous studies with an intersting finding: While ordinary users consume a high number of tweets from celebrities and bloggers, those celebrities primarily listen to other famous people's tweets and those bloggers listen to other bloggers on Twitter, begging the question "Is this really social networking?" 
For access to a PDF of the full study, click here.
For more discussion see article at "Mashable" here.